"Out Goin' Cattin'" is a song written by Mark Miller and Randy L. Scruggs. It was released as a single by Sawyer Brown in 1986, from their Out Goin' Cattin' album. Joining Mark Miller on the vocals was Joe Bonsall, lead singer for country group the Oak Ridge Boys. The song peaked at #11 on the US Billboard Country chart.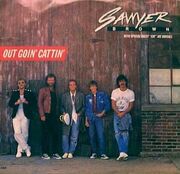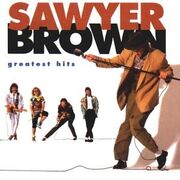 We still bop and our cars run hot
We're out cuttin' the fool
We're tearin' the town got the top laid down
Like we're back in school
I got a white sport coat and blue suede shoes
We're gonna find us a Betty and a Bobby Sue
chorus
Well don't go tellin', don't go rattin'
Hey baby baby we're out goin' cattin'
Juke joint jammin', tit for tattin'
Mama don't wait up, wait up
We're out goin' cattin'
Oh yeah, out goin' cattin'
Oh yeah, out goin' cattin'
I got a Chevy and we're in it
Gonna take it to the limit
Yeah we're lookin' fine
We'll take it to the hop
Maybe cruise the soda shop
Thinkin' back in time
Well don't say take it easy
Baby we're not through
I'm talkin' oomp-bomp-a-lou-bop-a-lip-bam-boom
chorus
"Out Goin' Cattin'" appears on two Sawyer Brown albums:
Music Video
Edit
The music video for "Out Goin' Cattin'" was directed by
Martin Kahan
. It shows Sawyer Brown and Joe Bonsall rehearsing and hanging out with a group of dancers for the making of the video.
The names Betty and Bobby Sue in the song refer to the title characters in the Sawyer Brown song "Betty's Bein' Bad" and the Oak Ridge Boys song "Bobbie Sue."